Korean Cosmetics - Beauty Secrets
Wir helfen Ihnen beim Einstieg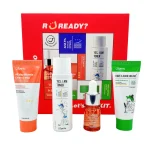 K-secrets / Korean skincare
Find out the secrets for your 10-step routine.
The abbreviation "B2B", also known as business-to-business, stands for trade between companies in online marketing and the exchange of goods. In contrast to "B2C", i.e. trade between companies and consumers, trade between companies is largely freer. For online marketing, this business area is a completely separate field. Because not only advertising measures have to be taken here. In general, you have to assume that the product will be examined very carefully by the potential buyer. Good service, favorable conditions and reliable services are the cornerstones of successful business relationships. Online marketing in the B2B area is therefore often regarded as the supreme discipline of online marketing.
Thank you VERY much for your quick + hassle free shipment of the item; I think your customer service is great!
I will be happy to browse your online shop again in due course and also order from you again!!
— ֎ Heidi ֍ —